Boyish Charm
Back to School Clothing Checklist for Boys
By
| Last Updated:
Up until this year Sam has attended a school where uniforms were required. You can imagine how easy that made shopping for school clothes. Five minutes ordering online and I was done. I always tried to add personality through fun choices for things like hats, backpacks and socks. This year is a different story: no uniforms!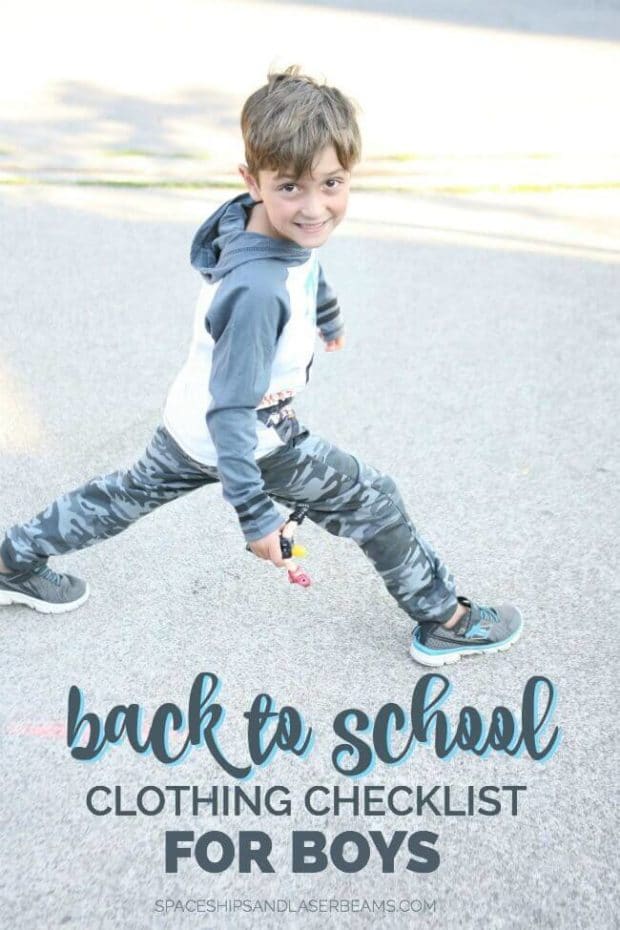 I know that means a little more thought on the nights before school days—is the shirt that goes with the pants that goes with the favorite sweater clean? But really it's no big deal because of course Sam has always had his everyday clothes he's worn at home.
It's just that now that it's almost time for classes to start, I'm realizing Sam has grown over the summer and high-water pants won't make it to school. I must shop!
I'm thinking a basic boy's fall wardrobe for school might include:
3 pairs of jeans
2 pairs of jogging/sport pants
2 hoodies
3 long-sleeve t-shirts
3 short-sleeve t-shirts
2 classic shirts
2 sweaters
puffer vest or lightweight jacket
socks, underwear
sneakers (and buy extra colored laces to switch out the look)
It's easy to mix and match t's and shirts as temps shift downward and that also creates fresh looks.
I'm convinced everyday clothes don't need expensive designer labels to look cool. I've found basic staples and cute items at our local Giant Tiger.
For 50 years, Giant Tiger has prided themselves on quality items with great value for the whole family. Their recent launch of women's wear brands has been followed by new lines for kids' day-to-day wear.
And the kids' line is included in the GT "Happiness Guarantee". If your child has outgrown, outlasted or simply changed their mind about an item, return it at any time, with the receipt, for a full refund. Talk about customer satisfaction!
I bought Sam a couple pairs of GT's Monkey Bars jogging pants. They have a slim cut leg and look very fashionable.
I also got a short-zip, lime green hoodie from their Survival Gear line—it's nice and warm.
Sam especially likes the skateboarding screen print on the long-sleeved t-shirts.
I think Sam looks adorable in his new outfits. Except he doesn't want me to say he is adorable. Now that he's seven, he is cool, not adorable.
Yeah, I can proudly say that: Sam is cool. #GTBack2School
Shhh—he is also still adorable!
Moms will appreciate the Giant Tiger durable brands and reasonable prices. Kids will like the on-trend styles. You can check out Giant Tiger on Giant Tiger, on Twitter: @GTboutique and Instagram: @GiantTigerStore. And be sure to join the Giant Tiger Twitter party — CLICK HERE to RSVP!
Disclosure: I am participating in the Giant Tiger campaign managed by SJ Consulting. I received compensation in exchange for my participation in this campaign. The opinions on this blog are my own.