Let your favorite four-legged family member know how much you love them this holiday season!
This post is in partnership with The J.M. Smucker Company. All opinions are my own.
This is my buddy, Max.
I love this little guy.
He's actually my sister's dog.
Thankfully we live close to each other, so I get Max snuggles whenever I want.
Which is often because his eyes! Those puppy dog eyes get me every time.
This year has brought big changes for Max. He's been a spoiled "only" love of my sister and her husband for years now.
But this year, my sweet niece Mary Grace joined the clan.
Leading up to her arrival, my sister and brother in law made a huge effort to do anything they could to help Max adjust to the changes he'd be facing.
After Mary Grace was born, they made sure to give Max as many loves and snuggles as they could.
It's been an adjustment for little Max. He liked his role as "only". But he's a good little trooper.
Every chance we get, my boys and I sneak over to my sister's to cuddle Mary Grace and play with Max.
My boys have wanted to do something extra special for Max with Christmas coming up.
On a recent trip to Meijer, I told them we could visit the pet section and grab some goodies to dote on Max with. The boys were delighted to help me pick out the goods!
I was also happy to find out that when you buy any four Milk-Bone, Milo's Kitchen, Pup-Peroni, or Canine Carry Outs dog treats, you can get $3 off your next shopping trip at Meijer! Yay!
You can snag these savings November 25 through December 29, 2018. To earn the reward, buy the participating products and enter your mPerks ID at checkout. Find out more on the savings here.
These high-quality dog treats have been made with love for dogs of all sizes since 1908. The wholesome, crunchy treats are the perfect way to let your pet know that they are loved.
Of course, Max loves a good treat.
These cute gift ideas include four of his favorite treat varieties.
And who can resist these cute presentations?! Not me. I'm excited to share these darling ideas with you!
Let me start by telling you about the treats I used.
First up, Milk-Bone® Puffs®. These crunchy, delicious treats will have tails wagging! They are airy little puffs with lots of flavor in each bite for 10 calories or less per treat. They're available in Mini and Medium sizes for both their flavors: Bacon & Peanut Butter or Chicken & Cheddar.
Next, we have Milo's Kitchen® homestyle dog treats in the Chicken with Rice & Vegetables flavor. 100% real chicken is their #1 ingredient with no artificial flavors or colors.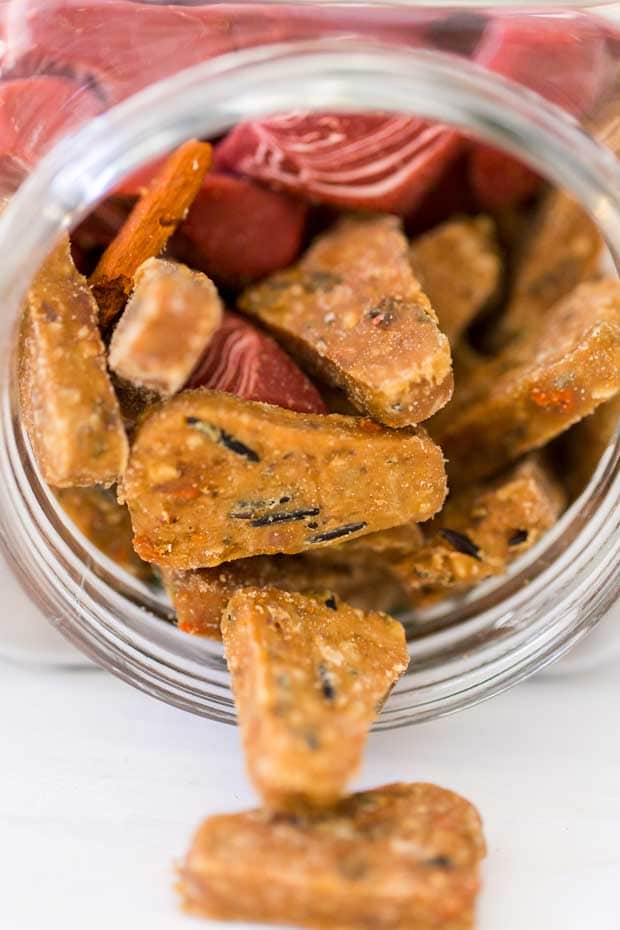 Then we have Pup-Peroni Jerky Bites. Real pork is the #1 ingredient. They're grain-free with no fillers so you can feel good about serving them to your dog.
Finally, Canine Carry Outs® Original Beef dog treats. They have the look and taste of real beef with a chewy texture that dogs love. They're each perfectly sized for taking on-the-go as well.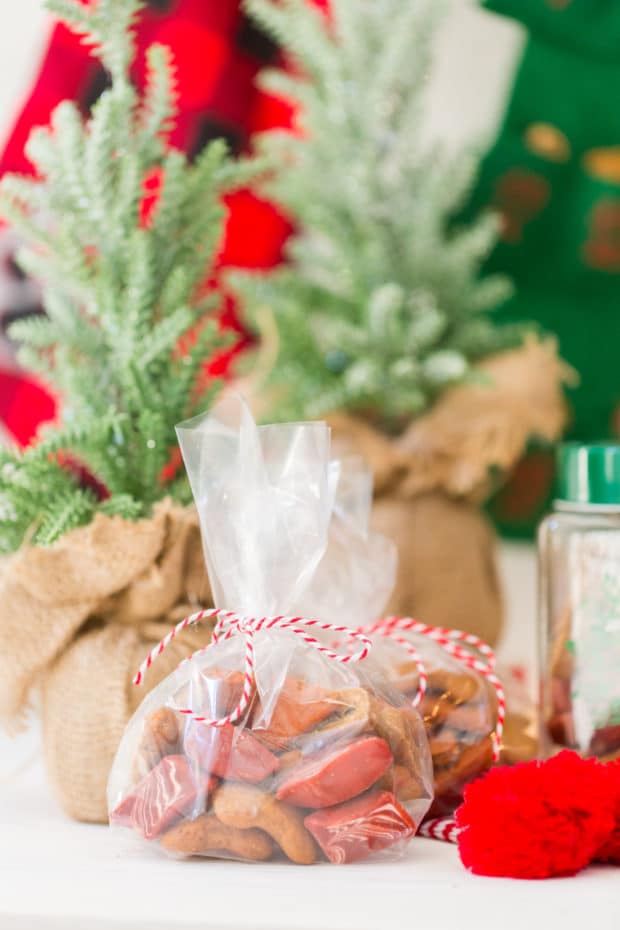 Our first gift is a custom doggie trail mix. I measured out equal portions of the treats and distributed them evenly among the treat bags. I used cute little bags and tied them each with red and white and string. They're the perfect stocking stuffers!
I would also suggest finding cute containers. I cannot get enough of the darling dog treat jar. Especially because he reminds me of our Max!
Mr. Max loves a good chew toy — when I saw this little gingerbread man, I couldn't resist. He's another great stocking stuffer idea.
Finally, Max will have his very own advent calendar this year. Each day has its own treat tucked in. I know he will be SO excited to celebrate every day.
I love how cute and festive they turned out! Such a simple way to make Max feel special and offer him some of his favorite flavors.
This Christmas will be extra special for our family as we celebrate with Mary Grace. I know we will make great memories, with Max by her side!