Do you have any first day of school jitters happening at your house?
With my two boys, I've been monitoring three attitudes. And that's on top of figuring how to juggle my volunteer commitments, planning how to do first-day photo sessions, and coming up with lunch menu ideas (how about a classic tuna melt?). Best news: it's all coming together and I'm still smiling! I'll share how to make it happen. Thanks
for the help SignUp.com. And thanks for sponsoring this post!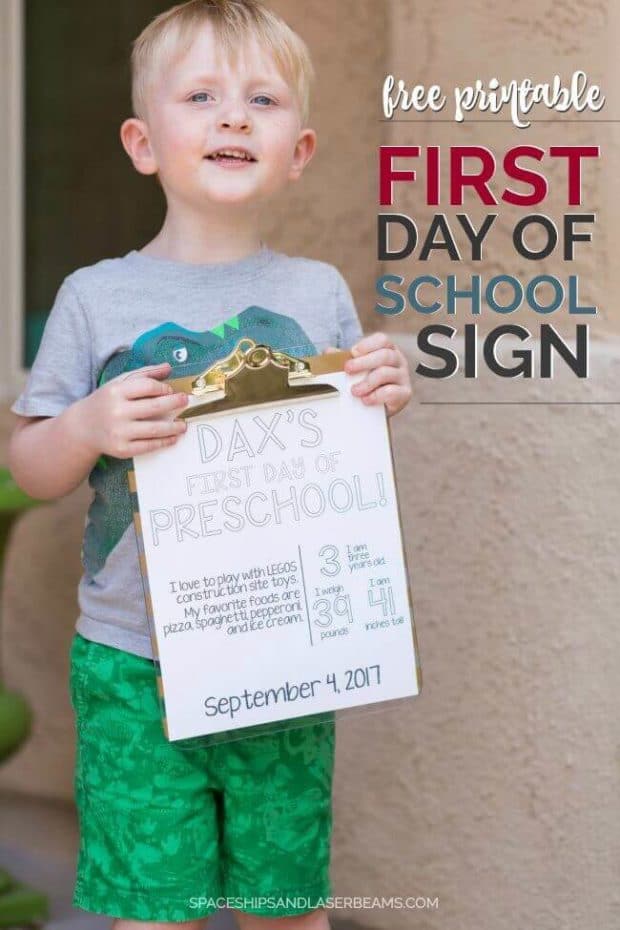 Since Rowen has experience under his belt I didn't think he would be nervous about heading back to school but I've been a little concerned about my youngest going to preschool. Dax has always been mama's baby.
Mama's baby…that would be the little nearby shadow attached to my heart. And under my feet.
I've been talking up all the fun Dax will have this year, just like big brother. I think it's working. He was more than ready to pose for his first-day picture (more on that in a moment) and he's been nonstop talking about playing with new friends.
And at first I thought, "Oh my heart…my baby is going off to school." Sniffle. But not too long after that I realized, "Oh…who are we kidding? I'm ready for some sanity!" Ha!
VOLUNTEERING
Both of my boys will be at the same school and they have class parties for all the normal holidays plus a few extra fun ones so I know I'll be baking lots of treats this year. There are always sign-up lists for treats.
Last year I had to take a picture of the sign-up sheet teacher kept by the counter so I could remember what I was to take and when! This year I'm suggesting we use SignUp.com instead.
Ever heard of SignUp.com? They offer helpful solutions for all sorts of group effort coordination. Although they offer power-planning tools for more complicated organizing, they also offer a free service that is great for volunteering parents like me who are busy with a dozen commitments on any given day.
SignUp.com keeps track of things such as who is bringing what snack on what day or which moms are going on field trips and what time you need to be there.
I like the idea because you can use SignUp.com on your phone and it automatically gives calendar reminders so there's no chance of forgetting what you promised to do and no need for teacher (or room mother or coordinator) to call through the list. That saves time for everyone.
It's quick and easy to sign up, too. It's available 24/7 and there are no pesky passwords to remember. Go here for more information on that. SignUp.com is going to be a time and sanity saver this year.
BACK-TO-SCHOOL PHOTOS and FREE PRINTABLES
I adore the back-to-school tradition of taking pictures at the beginning of the year. It's always amazing to see how much a child has grown from grade to grade.
I love knowing a special time can be revisited in the future when I capture the essence of a moment with my camera. I'm sentimental enough to know I'm going to appreciate having a visual record on that future graduation day.
I'm sharing a blank jpeg of my first day of school printable that you can put in Word to personalize with your own text. And to get those fun back-to-school, first day photographs, here's what I recommend:
Photograph with even light in the foreground and the background.
Use a clipboard to hold the printable.
For younger kids, have them look into the camera to see the "dinosaur blinking".
Have them say "candy" to get those cute smiles you love!
Photograph the day before the busy first day so you aren't trying to take pictures on your way out the door (since you'll probably be running late!)
LUNCH IDEAS
My photography business includes food presentation features as well as portraits. My family knows our meals almost never go from stove to table. There is usually a photo op before we eat!
Photographing this classic tuna melt sandwich made my mouth water! It's a family favorite that makes a satisfying lunch for home or school.
Now that I can check off volunteering commitments, back-to-school photos, and a favorite lunch idea, all that's left to do is decide how I'm going to spend my first day of mom freedom…I'll think of something!
Ingredients
Tuna

2 cans, drained

Onion

medium size, chopped

Celery

1/2 a stalk, chopped

Garlic

1 clove, minced

Parsley

1 tablespoon, chopped

Mayonnaise

3-4 tablespoons

Olive Oil

3 tablespoons, divided

Mozzarella

1/3 cup, shredded

Salt

to taste

Fresh Black Pepper

to taste

Bread

sliced

Butter

softened
Instructions
Drain water or oil from tuna, then fork tuna into a medium bowl.

Chop onion, celery, and parsley. Mince garlic and add ingredients to tuna.

Add mayonnaise, olive oil and mozzarella cheese.

Combine all ingredients until well incorporated.

Salt and pepper to taste.

Place a non-stick skillet on the stove and add 1 tablespoon of olive oil.

When skillet is hot, take a slice of bread and generously spread butter on one side. Place bread buttered side down in hot skillet.

Using a spoon, scoop about 2 tablespoons of tuna salad on bread while it is browning. Butter another slice of bread and place non-buttered side on top of tuna.

Utilizing a spatula, check to see if bread is toasted brown; if so, turn tuna melt over and grill until

golden brown. Serve warm or allow to cool.