Life is hectic! My two older boys are already involved in sports programs and their practices, lessons and games sure keep us busy. On top of school and work…well, you know how that goes!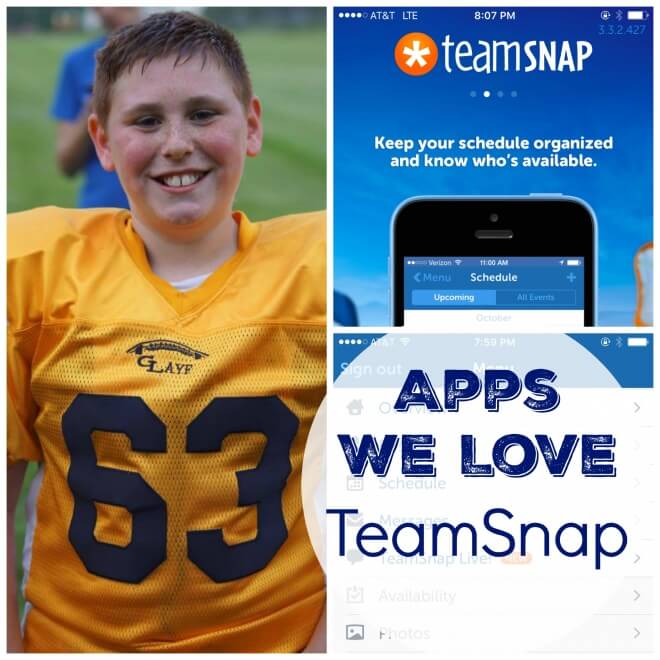 Most days we're OK with our schedule. We have worked out logistics—which parent, which vehicle—plus necessary snacks and meals. What gets me crazy is when a practice time is changed or a game is cancelled and you don't hear about it until you arrive at the scheduled destination. Grrr moment. When there is so much to juggle, wasting time because of lack of communication is really aggravating.
Our oldest, Jorryn, was involved in his first football season this past summer and fall. It was a very demanding schedule. With multiple practices each week plus games in different cities, the potential for schedule snafus was enormous. Team coordinators chose to use something called TeamSnap to keep everyone on the same page. All the parents received emails and updates about games, where to be, who was responsible for snacks that week, etc. It was amazing—a real life saver! I can see why nine million coaches, parents, team managers and players use TeamSnap's web and mobile apps.
Every week we would get an email reminder for the game. We would click yes or no that we would be there so the coach was sure team members knew when to arrive. We could see our varied practice times and locations and check our complete game schedule which included location, time and details on the other team. The TeamSnap app was also an awesome way to communicate with our team mom, plus Coach.
I liked that there was even a roster, complete with photos so you could keep track of the various players. You could upload team photos and handle payments with a click of a button—what a time saver!  And the app handles multiple teams at once, which is perfect for families with several kids and/or kids on multiple teams.
Jorryn is doing basketball now and this program has not been using TeamSnap. I can't imagine why. It is totally convenient and informative. I sure miss the easy communication between parents and coaches. Since TeamSnap is offering a FREE four month trial, I'm thinking our coach is about to receive a download of information. 🙂  I know he'd thank me and so would the other parents. Maybe it'll even start a trend with our local band, drama club and youth group. Do I sound like a commercial? I give TeamSnap top ratings!
All you need to do to get started is download the free four month trial TeamSnap app, then log in. Easy! You're gonna love it!