Oh, what a month! Part of our staff has been on vacation, part of our staff has been sick. That means we didn't have many parties posted on our blog, BUT I found some great boy birthday parties.
I'm sure you'll enjoy this collection of themed dessert table ideas, decorations and birthday cakes.
You'll see robots, Peter Pan, Teenage Mutant Ninja Turtles, a truck stop, Bronx from the Block, ET, Where the Wild Things Are, a circus, a nautical themed baby shower, and a Charlie Brown Halloween bash.
---
 See Also
---
MY FAVORITE RECENT BOY PARTIES FROM THE NEIGHBORHOOD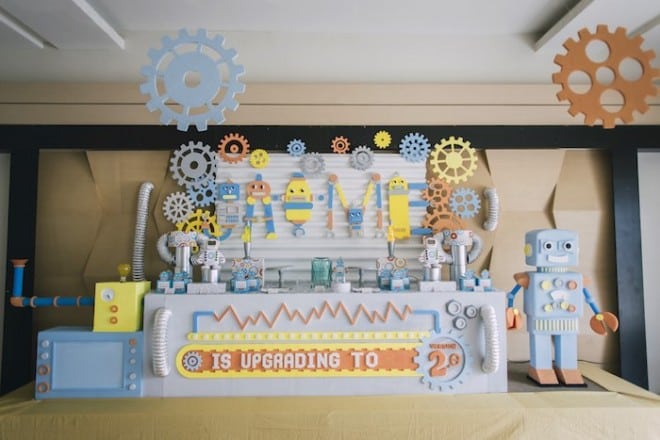 1. Boy's Robot Themed Birthday Party
From Party Deco via Kara's Party Ideas
"Data upgrading to version 2.0". Isn't that a cute way to announce a second birthday? Whimsical robots star on all sorts of yummy looking treats. Gear shaped cookies, light bulb-shaped beverage bottles, and awesome themed rice crispie treats are just a few of the delights at this celebration.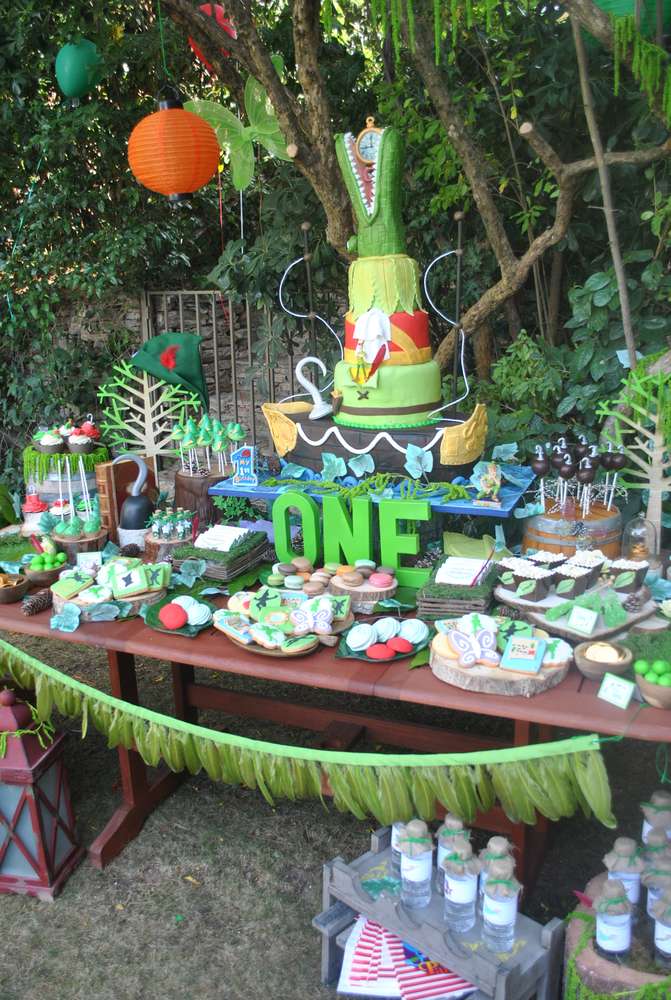 2. Peter Pan Theme First Birthday Party
From Vivian P. via Catch My Party
Not sure you want to grow up? Here's your theme! Feathers, tree stumps and a fully decorated dessert table wow. Love that crocodile topped birthday cake! Also notice the Captain Hook cake pops. Great ideas!
3. Wild One First Birthday Party
From Key McKean via Project Nursery
You'll recognize items from the book that represent Where the Wild Things Are. They've been coupled with fall accents for a charming first birthday celebration. Honestly, you'll want to check this party out just to see the little birthday guy in his Wild Thing outfit, going at his smash cake!
4. Nautical Themed Boy Baby Shower
From Partylicious via Beauty and Lifestyle Mommy Magazine
Guests had a whale of a time discovering all of the cute navy, turquoise and aqua décor that was perfect for celebrating the arrival of a new little guy. Especially noteworthy is the way guests "signed" the guestbook—a sweet keepsake.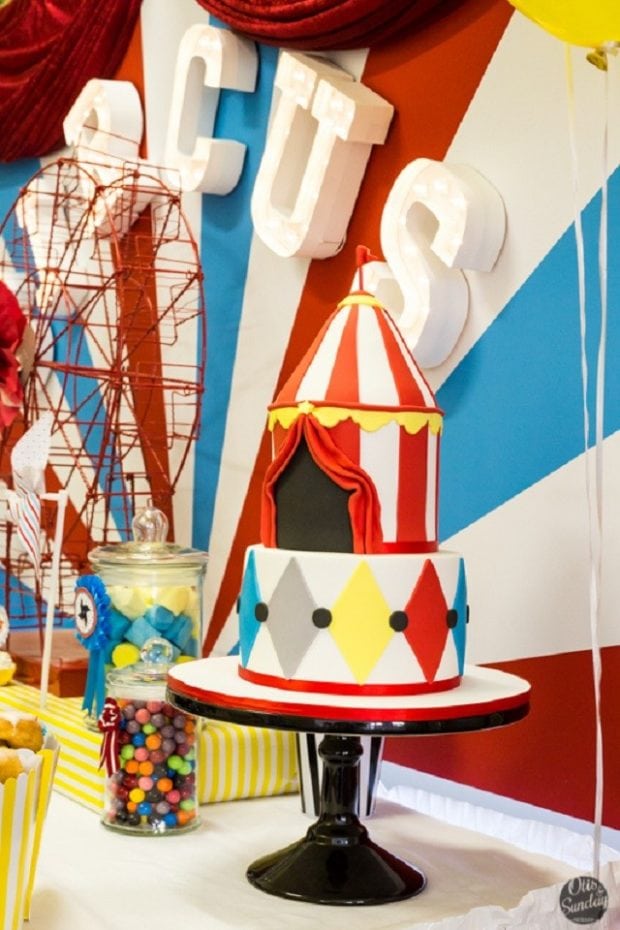 5. Big Top Circus Themed Birthday Party
From Kiss With Style via Anders Ruff
Been to the circus lately? Here's your ticket! This one has all of the colorful iconic props, including decorated cookies, cupcakes and my favorite, clown cake pops.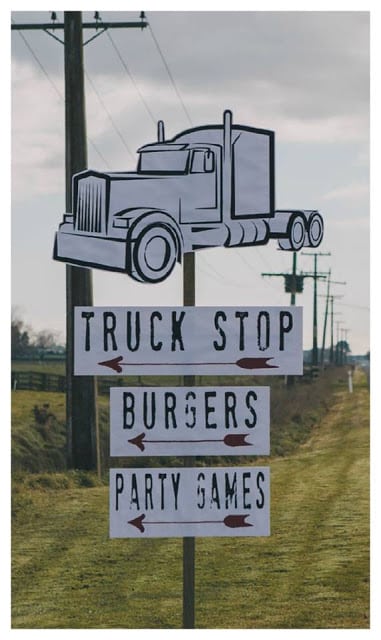 6. Boy's Truck Stop Themed Birthday Party
From Dots n Spots via The Little Big Company
Almost all little guys are big on trucks so I've seen lots of parties with trucks, but this is the first time I've seen the truck stop included in the theme. The event is simple, but done with style.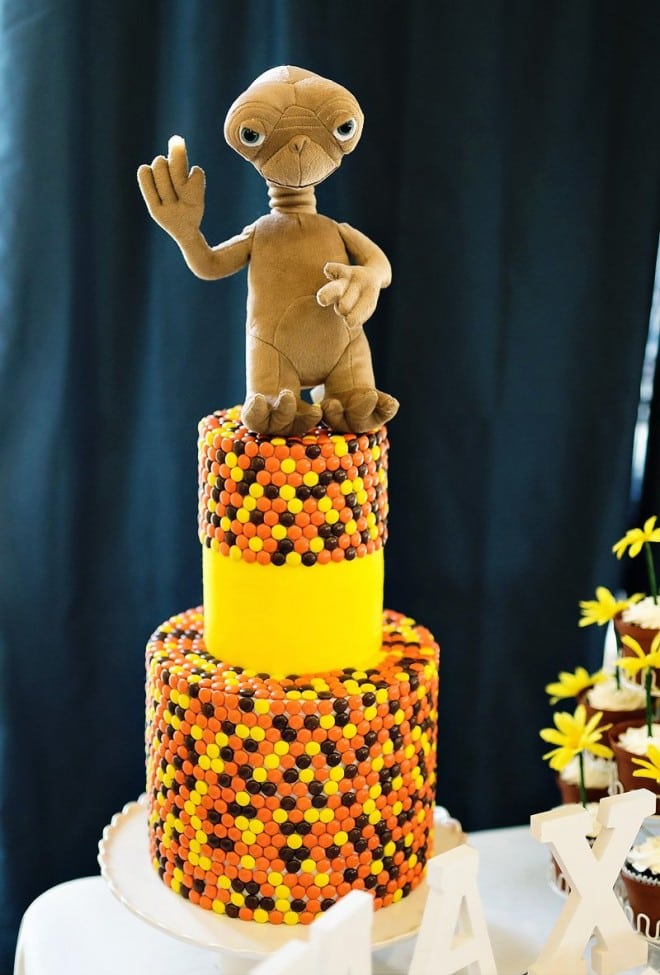 7. Nostalgic ET Movie Themed First Birthday
From Sakura Paper Co. via Hostess With The Mostess  
Did you love this movie? You'll love the many clever ideas in this celebration. Remember the dead flower that regenerated under ET's touch? It makes a super guest table centerpiece. ET stars on the cake (with a glowing finger!) and Elliott's red sweatshirt makes a great prop. There's a terrific photo booth, too.
8. The Great Pumpkin Themed Halloween Party
From Laura's Little Party
Charlie and the gang show up again, including shades of The Great Pumpkin. Charlie's rock (candy), Linus' wet sucker and pumpkin shaped cookies show off in a most adorable way. Extra: if you're looking for more Halloween inspiration, also check out Laura's Monster Mash party.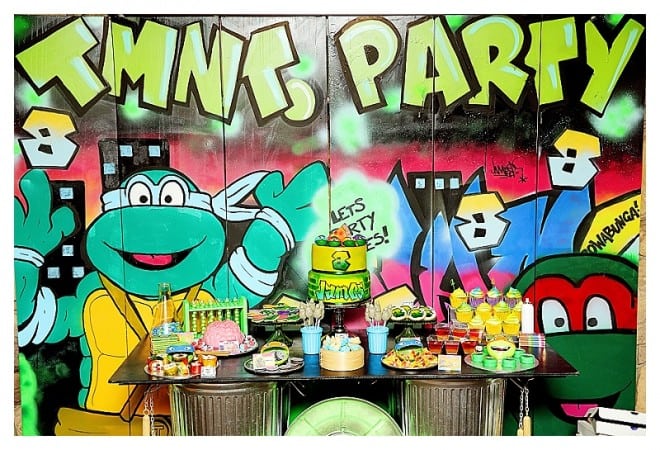 9. Teenage Mutant Ninja Turtles Graffiti Party
From Little Wish Parties
A trash can table base with an awesome themed backdrop gets the party going. The NYC sewer comes alive with treats such as Ninja Candy Sushi, Krang's Brain Jelly, Graffiti Cupcakes and Rat (shaped) Candy. There's a great collection of ideas you'll want to look at.
MY FAVORITE RECENT BOY BIRTHDAY PARTIES FROM OUR BLOG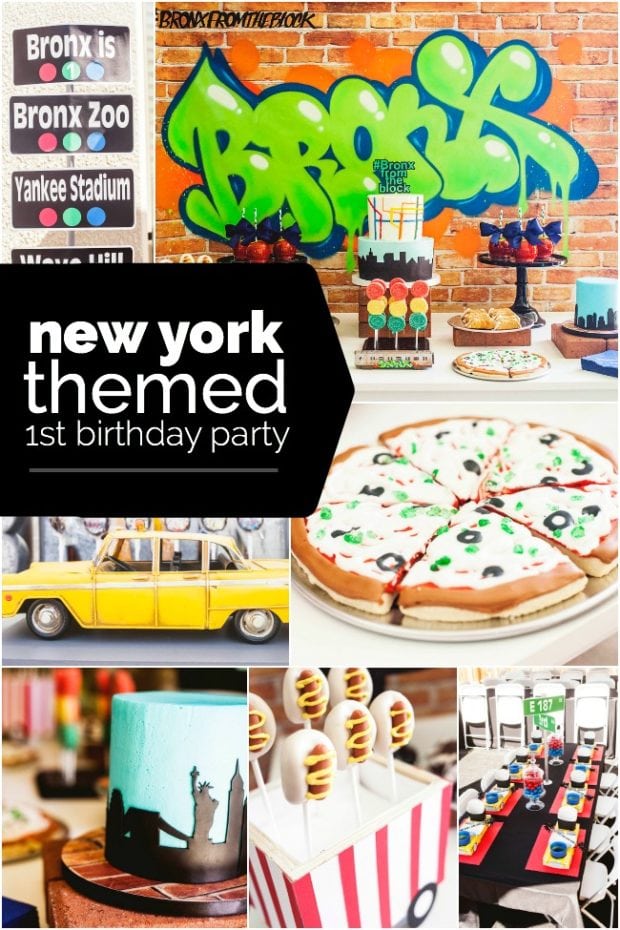 10. Bronx from the Block
From Mammarella's Sweet's & Treats via Spaceships and Laser Beams
This way cool celebration is a great first birthday party! There are enough colors and interesting details to engage a little guy's attention, but the adults who typically celebrate a first birthday would be wowed with the faux brick backdrop, inspired subway/street signs and awesome desserts. Wonderfully creative!
MY FAVORITE RECENT PINS