A Western Themed Cub Scout Blue and Gold Banquet
Table of Contents
If you have a Cub Scout, chances are you already know all about the annual Cub Scout Blue and Gold Banquet. Festive and fun, this event is held in celebration of the birthday of Cub Scouting.
Howdy! It's Jen Carver, of Banner Events, here to share a western themed Cub Scout Blue and Gold Banquet (although the ideas would work for any western or cowboy themed event).
Together with the team of awesome volunteers I work with, we chose a western theme because it lent itself to a whole slew of exciting boy and family friendly activities.
Giddy up with us through photos by Rochelle Pettingill depicting the rustic inspired decorations, two dessert tables, one amazing cake centerpiece and loads of ideas for an evening of fun!
---
See Also
---
Wrangling up excitement for the night began by sending each Cub Scout a western-style "wanted" invitation designed by Anders Ruff Custom Designs and printed by Driftwood Printing.
Guests were invited to "giddy up" on over to the celebration decked out in their favorite western duds.
A few weeks before the celebration, each Cub Scout was outfitted in a cowboy hat and bandana and had a "wanted" poster-style photo taken.
The photos were printed and attached to authentic looking posters. The posters, along with a "Happy Birthday" banner, made an impressive backdrop for the podium where the live event would be conducted by our Cubmaster.
Stuffed "moneybags" and "gold" bars also dressed up the podium area.
To keep our audience engaged throughout the evening, the money bags were filled with crowd participation activity cards that our Cubmaster pulled out all evening.
There was a lot of whoopin' and hollerin' going on!
Winners of our pie eating contest and pony races received the displayed boot trophies.
All the Cub Scouts donned cowboy hats and bandanas because looking the part always adds to the fun, doesn't it? The boys tied up the paper bag ponies they had made in a previous Pack activity to a makeshift pallet fence.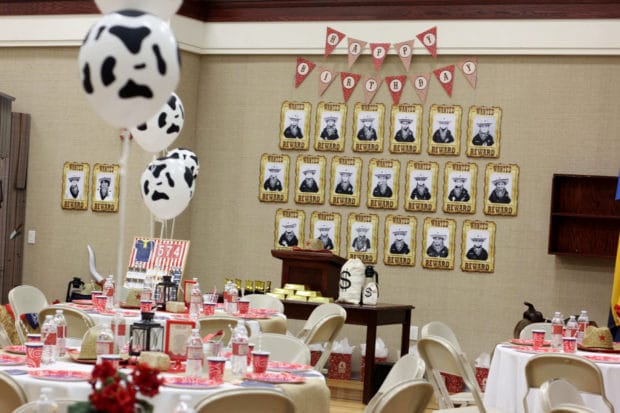 During the evening, guests enjoyed a country music performance by a friend of the Pack, and had their photos taken using the "wanted" poster photo op.
Hosting our event in a church gym meant we had a huge space to decorate. Thankfully, life-sized props from Shindigz helped fill the space and set the western tone we wanted to provide.
Aren't the 3-D jail, stable arch, and split rail fence posts just perfect?
My personal favorite large décor item was the jail. It added a comic relief element to the night as various attendees were called up to perform a challenge or "go to jail" if they failed the task.
To drive the western theme home, western props were added as decorations–longhorn skulls, pennant flags, bales of hay, lanterns, ripped bandana garlands, and even a real saddle.
We set dining tables to reflect a simpler, country-loving blue jeans and bandanas style. Tables were decorated with simple white tablecloths. We topped them with burlap table runners and a Mason jar full of artificial flowers or a lantern centerpiece. Cow print helium balloons were affixed to each centerpiece.
We paired cowboy hats, faux barbed wire, and mini bales of hay with tin buckets filled with activity raffle tickets for each table.
Darling bandana and blue jeans printed plates, cups and napkins really helped tie together the look.
To accomplish the rustic look we were shooting for, wooden cutlery was tucked inside the cutest jean pocket-inspired holders made from wrapping paper.
Guests could fill up their cups with root beer from our rustic watering hole, or forego the pop and drink their Wild West "Cub Scouts Water". (Love how those printable labels from Anders Ruff add so much fun to an ordinary bottle of water!)
Although not photographed, we rustled up some delicious grub! The menu included: BBQ pulled pork sandwiches, cornbread and honey butter, chips, and homemade salsa.
Cub Scouts have a big sweet tooth! To meet the demand for sugar, we set up two dessert stations. Each family contributed their favorite pies to the potluck pie station. This dessert station was decorated simply with a ruffle burlap table skirt, self-serve plates and utensils, displayed in metal pails. Gorgeous cookies were the centerpiece.
With faux wood panel butcher paper, our main dessert table was quick and easy to put together. We added a DIY ripped fabric garland made from bandanas and a framed printable poster. Using another ruffled burlap table skirt tied the dessert tables together visually.
We commissioned Christina of 4 Kids Cakes to make a centerpiece cake that would knock our guests' boots off. Talk about awesome–I think she accomplished her assignment.
While each tier is awesome, I think my personal favorite element has to be the belt buckle with the "C" for Cub Scouts. Yeehaw.
To keep things easy, purchased cupcakes were dressed up in printable toppers and styled on red cake stands.
More impressive cookies (Creating Awesomenessity) were neatly displayed in metal milk cans.
Licorice strings were added to store bought Rice Krispy treats to resemble hay bales.
Thirsty cowboys and their horses are no good so we set up a watering hole to combat dehydration. The DIY wood pallet display by the Pecheos family provided a great place for our root beer barrel. Guests visited our watering hole to refill their cups throughout the night.
In keeping with traditional Cub Scout Pack Meeting routines, we included a flag ceremony. Each den performed skits and then rank advancement awards as well as other achievement recognitions were presented to each boy.
We recognized every volunteer leader for his/her service and presented each with a small token of appreciation.
We had such an enjoyable evening. Can't wait to wrangle up more fun at next year's Cub Scout Blue and Gold Banquet.
Plan a western themed cowboy party ideas with these party supplies:
(Amazon Affiliate Links)
Straw Cowboy Hats With Plastic Star
Clear Plastic Cowboy Boot Mugs
Howdy Cowboy Cupcake Kit
3D Campfire Centerpiece
Cowboy Hat and Boot Sugar Decorations
Saloon Door Cover
Straw Bales
Plastic Wagon Wheel
Mini Metal Buckets
Jute Twine Heavy Duty twine
Half-Pint Milk Bottle
Giddy-Up Stick Horse
More western themed party ideas: