Is it cold where you live? Temps are in the lower range of brrr where I am! What better thing to do than curl up with a hot mug of your favorite beverage and peruse terrific boy birthday party ideas? This go 'round includes dinosaurs, the Flintstones, firemen, the Wild West, rustic camping, beach balls, a circus, vintage airplanes, Star Wars, Elmo, Paw Patrol and a golden safari themed baby shower. Sound good? They'll warm your heart!
---
See Also
---
MY FAVORITE RECENT BOY BIRTHDAY PARTIES FROM THE NEIGHBORHOOD
1. SUGAR COATED MAMA via KARA'S PARTY IDEAS :: Boy's Rustic Beach Ball Themed Birthday Party – Is anyone else dreaming of sunshine and sand? This little guy's birthday celebration might transport you where you wanna go. Love the water-colored décor teamed with rustic elements. So boy handsome! Using beach balls for a one-year-old's party? Perfect.
2. FROM THE HEART EVENTS via CELEBRATIONS AT HOME :: Boy's Vintage Circus Themed Birthday – Don't let concerns about the weather keep you from hosting your own birthday circus. As this party proves, great props and careful arrangements bring the Big Top indoors.
3. HAPPY HAPPENINGS EVENTS and DESIGN via CATCH MY PARTY :: Vintage Airplanes Themed Birthday Party – A delightful dessert table filled with appealing treats and a wonderful, light-filled venue really make this first birthday party take off!
4. PERFECTLY SWEET LOLLIE BUFFET via THE LITTLE BIG COMPANY :: Wild, Wild West Birthday – If you have any little cowboys wrangling at your house you'll want to examine this party! The centerpiece cake is just one of the fabulous theme-perfect desserts. Stick horse cake pops, cactus topped cupcakes and sheriff badge cookies impress.
5. ELODIE EVENTS :: Fireman Themed Birthday Party – Little guys would think this party is hot stuff. Colorful medallions, an adorable cake and winning displays make this celebration a looker.
6. MEGHAN ELISE PHOTOGRAPHY via KARA'S PARTY IDEAS :: Rustic Camping Birthday Party – This first birthday celebration for twins really impresses. Here's a sampling of what you'll see: wonderful play tents; s'more station; faux fire pit; darling coloring station; spot-on photo booth; impressive woodland centerpieces. The food and dessert displays are terrific too.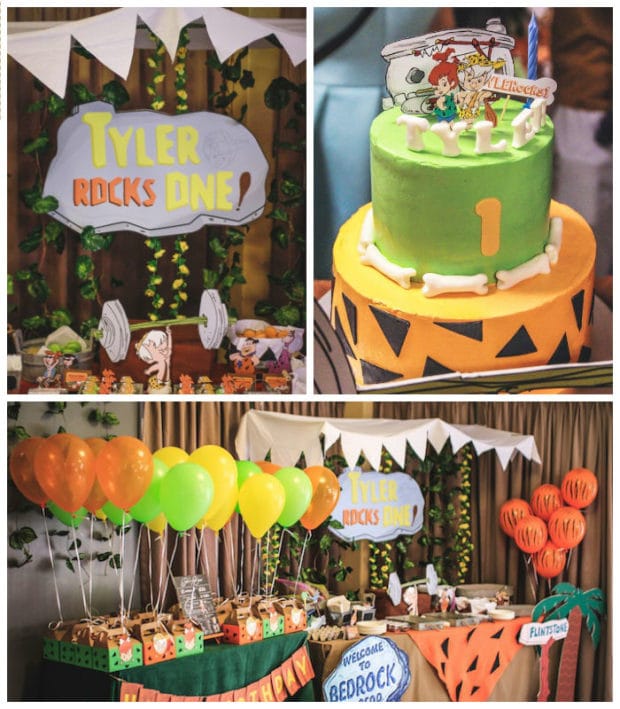 7. THE LISBETH TIMES via KARA'S PARTY IDEAS :: Flintstones Inspired Birthday Party – Got a rough and tumble little guy? Bam! Got a party theme: caveman. Starting with a dessert table canopy that looks like Fred's Stone Age footmobile was a masterful idea and a fun cake and decorated treats promise a rockin' good time.
8. SWEET DREAMS BY DANA via CATCH MY PARTY :: Paw Patrol First Birthday – Bright colors are a great choice for a little one's party and this event has them. Dog bowl serving pieces, fire hydrant cupcake towers and dog bone embellishments on the utensils are some of my favs at this celebration.
MY FAVORITE RECENT BOY PARTIES FROM OUR BLOG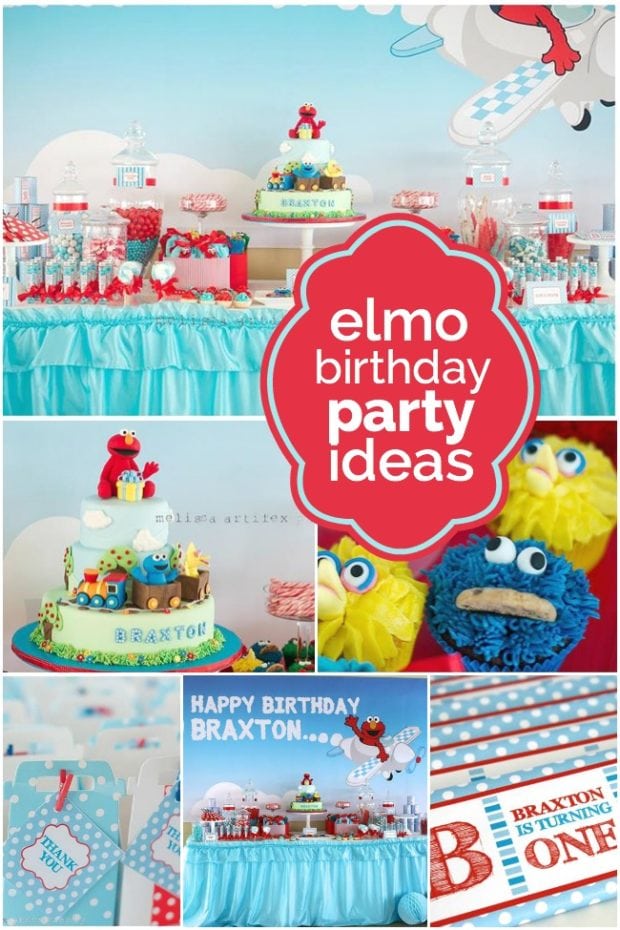 9. CENTRE OF ATTENTION via SPACESHIPS AND LASER BEAMS :: Elmo Themed Birthday Party – Favorite childhood icons provide great ideas for party themes. Head on over to the sunny side of the street to meet Elmo and friends at this colorful and well-designed celebration.
10. PARTYLICIOUS via SPACESHIPS AND LASER BEAMS :: Golden Safari Baby Shower – Open your eyes wide and say "ahh…" This is a wonderful celebration! Gold and white elevate the popular jungle/safari theme to a state of lovely. Paper cutouts look precious and just the right amount of sparkle really adds to the décor.
11. WECANDOIT via SPACESHIPS AND LASER BEAMS :: Wild Fun Dinosaur Birthday Party – An outdoor venue as perfect as this one adds party excitement! Dinosaurs from pocket-size to over-size populated this fun, busy kid event.
12. ASHLEIGH NICOLE EVENTS via SPACESHIPS AND LASER BEAMS :: Dinosaur Birthday Party for Brothers – You'll agree that handsome party details did not go extinct when you check out the fabulous work by Ashleigh Nicole.  Rustic style dessert and guest tables, hands-on activities and witty displays make this event a stand out.
13. SWEET PEA PARTIES via SPACESHIPS AND LASER BEAMS :: Star Wars Themed Birthday Party – Star shine is mighty fine to include in a celebration and the Star Wars theme has a galaxy full of cool ideas. This event looks awesome and it's full of DIY ideas that would wow any birthday boy and his guests.
MY FAVORITE RECENT PINS
VALENTINE SCAVENGER HUNT :: How do I love thee? Mom, let 'em count the ways with this sweet idea.
SCIENCE EXPERIMENT :: Just how do arctic animals stay warm? Curious minds will love doing this experiment to find the answer.
VALENTINE or PARTY FAVOR :: This erupting volcano and dinosaur kit is a super idea. Inexpensive, and looks like just the kind of fun that fascinates kids.