Boys, cake and birthday parties just go together, don't they?
Awesome decorations make an event even more special, as you'll see in this collection of themed celebrations that includes (in no particular order): cops and robbers and Top Gun; a Mad Scientist and an adorable bunny; Star Wars, Cars, and Minions; a jungle and bugs; cowboys; LEGO; a rustic party in plaid; and one in marble and copper. Time to party? Stick around and get inspired!
---
See Also
---
MY RECENT FAVORITE BOY PARTIES FROM THE NEIGHBORHOOD
1. Boy's Jungle Themed First Birthday Party
From Decor By Yael via Little Wish Parties
The jungle paper cut-outs look fabulous at this celebration, plus a terrific cake, fruit bouquets, the most winsome cakepops, and even the beverage bottle detailing make this party decor outstanding.
2. Boy's Star Wars Birthday Party
From Sweet Pea Parties via Kara's Party Ideas 
A favorite party theme for many years, Star Wars is about to set imaginations on fire again. Fun food ideas and imaginative decorations are just the start here. This event's activities includes design-your-own droids, cardboard space ships, and a Death Star piñata. The simple costume ideas for guests are bound to please.
3. Top Gun Second Birthday Party
From Emily Klaparda via Project Nursery
Any little fellow would feel like the Top Gun at a party like this! Balloons, red, white and blue décor and an interesting cloud feature caught my attention but I think the awesome water stations would really wow the kids.
4. Cops and Robbers Birthday for Brothers
From Sparkling Sweets via The Party Teacher
Here's a fun theme that's dear to my heart (it was Sam's 4th birthday party theme too). Good guys and naughty boys love to play both roles as they nosh their way through superb treats on dual dessert tables like the ones featured here.
5. Baby Shower
From Cake Ink 
Adorable! The bunny-topped cake is precious. Fresh floral arrangements are outstanding counterpoints to geometric shapes and polka dots. I love the fresh white and grey palette; blue accents really pop.
6. Masculine Marble and Copper Themed Birthday
From The Occasional Table via Oh It's Perfect
The unexpected pairing of marble and copper gives this masculine birthday celebration a big dose of smooth styling. Vibrant green foliage underscores the handsome presentation.
7. Boy's Mad Scientist Birthday Party
From Sweet P Cakes and Cookies via Kara's Party Ideas 
Green germ jelly (Jello) Petri dishes look authentic and the edible blackboard cake and cookies are terrific. Any mad scientist wannabes would be glad scientists at the end of this party.
8. One in a Minion Birthday Party
From THE COOP via Hostess With the Mostess
All of that sunshine Minion yellow couldn't help but create a happy place. Blue and white stripes add punch and the striped plates, mini Mason jar cups and star napkins look super.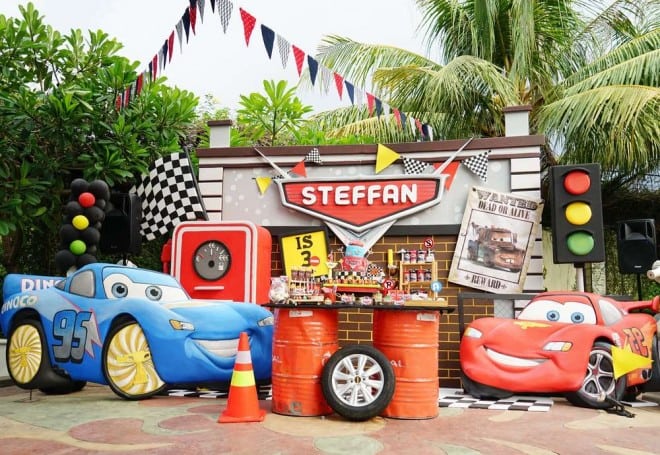 9.  Cars Themed Birthday Party
From The TruHappiness via Catch My Party
The Disney movie comes to life with this dessert table—what a set-up! Be inspired by the character cars, banners and marvelous birthday cake.
MY RECENT FAVORITE BOY PARTIES FROM OUR BLOG
10. Boy's Bug-Themed Birthday Party
From Bettsmade via Spaceships and Laser Beams 
Are you squeamish around bugs? You won't be at this little guy's bug-themed party! The cute Styrofoam bug centerpieces might just steal your heart and the food and beverage tables certainly entice.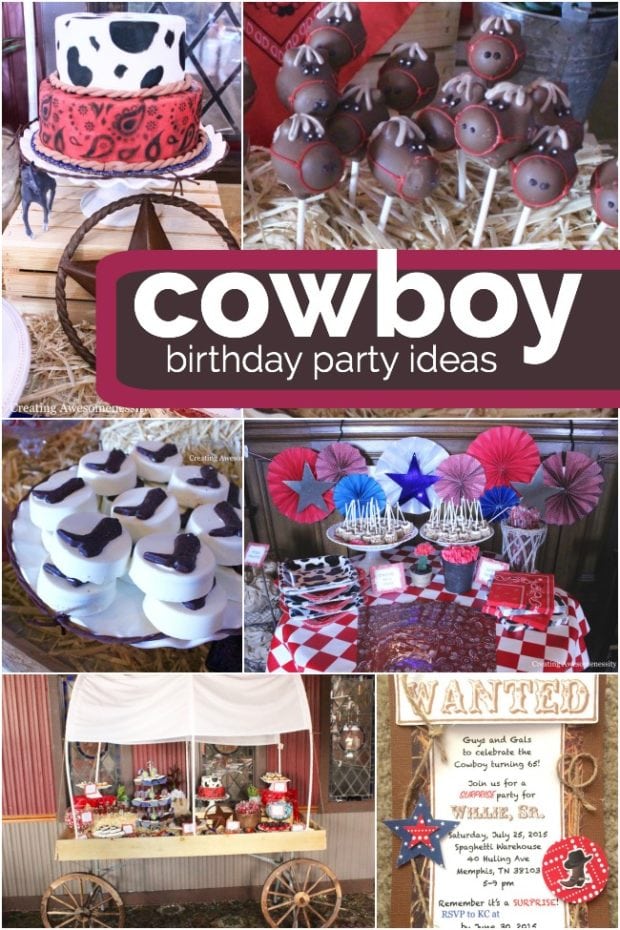 11. Kickin' Cowboy Birthday Party
From Creating Awesomenecessity via Spaceships and Laser Beams 
DIY swinging saloon doors, a covered wagon dessert "table", and TNT favors were some of my favorite party elements here, but don't just take my word for it—check out the super party desserts and guest table décor, too.
12. Rustic Fall Party
From Fizzy Party via Spaceships and Laser Beams
Rustic plaid transcends the seasons. Even though this was a fall event, the theme colors and masculine props could easily decorate a Christmas or winter party too.
13. Boy's LEGO Birthday Celebration
From Handmade Escapade via Spaceships and Laser Beams
Look for the really cool DIY ideas at this charmer including a 3-D LEGO name plate, temporary tattoos, bracelets and especially the birthday boy's LEGO mini-figure shirt.
MY RECENT FAVORITE PINS
POPCORN BARK :: Make a batch of this to munch on while you and the kids make crafts.
MAKE YOUR OWN SNOW :: Almost as good as the real thing—and no coats necessary!
POTATO STAMP ORNAMENT :: A time-honored craft goes all Christmas.