It's always party time somewhere! Today you're invited to ooh and ahh at the super themed ideas of boy birthday parties, a christening event and suggestions for Halloween celebrations. Birthday cakes, decorations, and party favors combine to excite little birthday guys and make the day even more special. Glean inspiration at a truck themed party, a superhero bash, a Pac-Man gamer party, a puppet show, a Little Prince themed celebration, a christening, a fireman themed party and a wickedly sweet Halloween bash.
---
See Also
---
MY FAVORITE RECENT BOY PARTIES FROM THE NEIGHBORHOOD
1. Boy's Truck Themed 1st Birthday Party
From Festa com Gosto via Catch My Party
What a boyishly sweet party! A few trucks in cheery aqua and red make their way around the party tables where giant confetti dots make a party declaration throughout the space. I love the simple display of those first year, birthday boy photos—very effective.
2. Boy's Superhero Theme 4th Birthday Party
From One Inspired Party via Hostess with the Mostess
Pair the excitement of superheroes and a room full of friends and you'll have one happy birthday boy! Colors and capes and cookies combine for a visual feast of details you'll want to include in your own event. Be sure to notice the four tiers of birthday cake, hidden in the phone booth.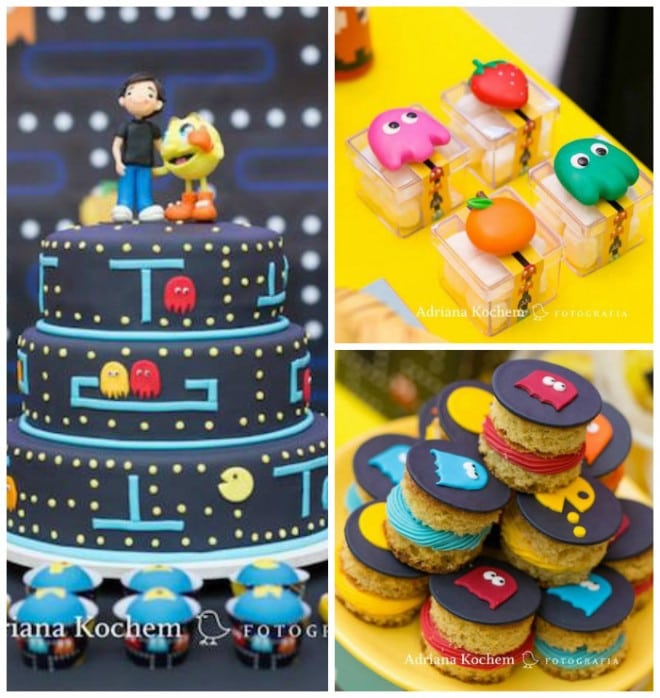 3. Boy's Pac-Man Themed Birthday
From Festit-Pois via Kara's Party Ideas
Remember Pac-Man? That chomping gamer is back with a cool cake, awesome character cakepops and lots of fun treats. I love the coordinating dessert table backdrop, too!
4. Fairy Tale Puppet Birthday Party
From Simply Perfect Events via Kara's Party Ideas
Fairy tales are perennial childhood favorites. Keren's parties always include a fabulous menu and this one also boasts a winsome table backdrop. Four-year-olds would love making their own puppets and then enjoying a puppet show, as showcased at this event.
5. Little Prince Themed Birthday Party
From My Little Party via Catch my Party
Candlelight stands in for moon glow at this party table. The Prince and his rose add charm to a dessert table filled with culinary artistry. Especially notice the delightful themed jar toppers.
6. Boy's Christening Event
From Confetti and Crumbs via The Little Big Company
Masculine and stylish, this christening celebration certainly caught my eye. I love how succulents were used instead of flowers! The naked cakes were a fabulous choice to partner with the soft blues, greens and copper—definitely a handsome look.
MY FAVORITE RECENT BOY PARTIES FROM OUR BLOG
7 and 8. Spooktacular DIY Halloween Projects 1 & 2
From Banner Events via Spaceships and Laser Beams
These posts are not actual parties but they're FILLED with DIY decoration, craft and favor ideas for hosting your own Halloween celebration or even at-home themed décor.
9. Wickedly Sweet Halloween Party
From Banner Events via Spaceships and Laser Beams
Witches, skulls, spiders, rats, bats, and even ravens manage to look quite stylish at this Halloween bash put together by Jen Carver. The party is full of candy—for the eye and the tummy!
10. Boy's Fireman Themed Birthday Party
From Crowning Details via Spaceships and Laser Beams
Little guys love firemen! This version uses the red, black and yellow colors that are so popular with this theme, but Julie's focal point backdrop infuses a freshness to the scene. Also notice how she uses mock fire hydrants for cupcake stands and boots for vases. Fun!
MY FAVORITE RECENT PINS
SALT DOUGH LEAF BOWL :: Go on a nature walk to gather a few leaves and then come home and make these sweet bowls.
SPIDER WEBS :: Glue, wax paper and glitter are the main things you'll need to add a few cobwebs to your corners.
 HANDPRINT VAMPIRES :: More comical than creepy, here's another idea for handprint art.