Looking for more great ideas for dinner but not sure where to start? Check out these delicious recipes and dessert ideas hand-picked by our Facebook followers this week!
---
See Also
This Elbow Macaroni Salad is the perfect dish to serve for dinner or at your next potluck.
Try out this Grilled Balsamic Chicken for a delicious dinner idea.
---
Roasted Cauliflower, Jalapeno Ranch Black Bean Loaded Nachos, Best Buffalo Chicken Dip, Homemade Tomato Sauce, and Old Fashioned Goulash will make great additions to your daily menu.
Plus, you can't forget dessert! Try out the Ritz Cracker Toffee, Pumpkin Pie Cupcakes, Carrot Cake with Cream Cheese Frosting, Cookie Monster Cupcakes, and Grilled Banana S'mores for great dessert ideas.
Here are our Facebook followers favorite posts from this week:
1. Ritz Cracker Toffee :: Spaceships and Laser Beams :: Share it on Facebook HERE.
There's a reason this Ritz Cracker toffee is nicknamed "Christmas crack". It's so delicious and totally addicting. Twenty minutes and 4 ingredients separate you from this amazing treat. You'll have the recipe memorized in no time, and may need to call in regular reinforcements so you aren't tempted to eat the whole pan all by yourself. Consider yourself warned.
2. Roasted Cauliflower :: Mama Loves Food :: Share it on Facebook HERE.
If simple, healthy side dishes are your jam, this vegetable dish is a must-try! Roasted cauliflower is delicious and very easy to prepare. You'll spend just a minute or two prepping the cauliflower florets (wash and drain) before spreading them on a large baking sheet. Drizzle with olive oil and toss the florets around to coat evenly. Sprinkle with seasoned salt prior to roasting the cauliflower in the oven. Move over fruit. Vegetables are the new hot side dish on the dinner menu.

3. Jalapeno Ranch Black Bean Loaded Nachos :: Domestic Superhero :: Share it on Facebook HERE.
Full of fresh vegetables (green onions, tomatores, jalapenos), smothered in cheese and black beans, and topped with a flavorful jalapeno ranch dressing, these jalapeno ranch black bean loaded nachos are delicious! You can keep them meat-free for vegetarians, or add some shredded chicken or beef for something a little heartier. Either way, they are awesome for a small group or a large party!

4. Impossible Pumpkin Pie Cupcakes :: Cakes Cottage :: Share it on Facebook HERE.
This recipe had me at pumpkin. And if you're wondering what's so impossible about these pumpkin pie cupcakes to name them "impossible", just try one. Then try not to eat another one. Yeah, impossible! They are like a cupcake made from pumpkin pie filling, but sturdy enough to hold in your hand. They won't be in your hand long though. Your taste buds can't wait that long.

5. Homemade Tomato Sauce :: Spaceships and Laser Beams :: Share it on Facebook HERE.
Take advantage of fresh produce during the spring and summer so you can enjoy this homemade tomato sauce all year long. This delicious sauce can be used on homemade pizza, lasagna, chicken parmesan, spaghetti, and dozens of other recipes requiring a red sauce. You'll love that it cans well, so you can make up a hearty batch and store it for future use.

6. Old Fashioned Goulash :: My Incredible Recipes :: Share it on Facebook HERE.
Pasta lovers, this old fashioned goulash recipe is for you! It's easy to prepare and feeds a crowd! Hearty and flavorful, it's comfort food made simple! Add it to your monthly meal plans, and enjoy full tummies and a happy family.
7. Carrot Cake with Cream Cheese Frosting :: Spaceships and Laser Beams :: Share it on Facebook HERE.
If you have 30 minutes to spare, do yourself (and your family and friends) a favor and whip up this delicious recipe for carrot cake with cream cheese frosting and caramel sauce! Delicious and decadent, you'll be so glad you did! You can serve the caramel on the side if you want to give guests the option of caramel and no caramel.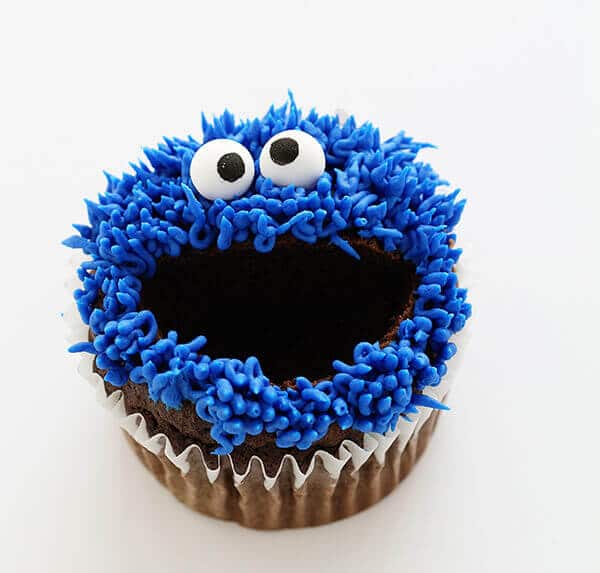 8. Cookie Monster Cupcakes :: I am Baker :: Share it on Facebook HERE.
Sesame Street fans will go crazy over these Cookie Monster cupcakes—not only because of how cute they are, but because of how delicious they taste too! This tutorial provides the perfect chocolate cake recipe for creating high domed cupcakes and also walks you through the process for decorating them. All the guesswork is done for you, including tips on which piping tips to use to create that frosted fur look.
9. Buffalo Chicken Dip :: Spaceships and Laser Beams :: Share it on Facebook HERE.
A definite crowd pleaser, this buffalo chicken dip recipe can be made in your slow cooker/crockpot! Do I hear a "hooray"? You'll be pleasantly surprised by not only how easy this is to prepare, but how amazing the combination of cheese, hot sauce, dressing, and chicken can be. Get ready to for a flavor explosion as you dip your favorite chips in this amazing buffalo chicken dip!
10. Grilled Banana S'mores :: The Best Blog Recipes :: Share it on Facebook HERE.
S'mores are always a good idea! If you're looking to top good old-fashioned s'mores, give these grilled banana s'mores a go! Preparation is easy, requiring a careful slit down the middle of a banana (leave the peel intact). Stuff with chocolate pieces and marshmallows, before closing the banana peel back up, and grilling on a piece of foil. Yum!
Cool down this summer with these great sources gathered by the crew at Spaceships and Laser Beams to help create a delicious summer treat.
(Amazon Affiliate Links)