Get ready for back to school with these delicious recipes and dessert ideas that have been hand-picked by our Facebook followers this week!
---
See Also
This Extra Cheesy Mac & Cheese is the perfect dinner time side.
Try out this Grilled Balsamic Chicken for a delicious dinner idea.
---
The Best Egg Salad Sandwiches, Fish Tacos, Cream Cheese and Chicken Taquitos, Freezer Breakfast Sandwiches, Cloud Bread, and Slow Cooker Pasta E Fagioli Soup will make great additions to your dinner menu.
Plus, you can't miss Pumpkin Snickerdoodles, Pumpkin Lasagna, Cake Mix Apple Cobbler, Slow Cooker Caramel Apple Pie Dip for dessert!
Here are our Facebook followers favorite posts from this week:
1. The Best Egg Salad Sandwich :: Spaceships and Laser Beams :: Share it on Facebook HERE.
This recipe for best egg salad sandwich lives up to its name! It continues to be one of the most popular recipes on our site, week after week. Great recipes start with amazing ingredients. This egg salad recipe features hard boiled eggs, cream cheese, cheddar cheese, bacon, and chives. There are some suggested optional add-ins too, like sliced avocado. Get tips for cooking your eggs and serving your sandwiches.
2. Fish Tacos :: Mama Loves Food :: Share it on Facebook HERE.
Prepare yourself for better-than-restaurant fish tacos! This recipe starts with tilapia filets, drizzled with olive oil and dusted with seasoned salt before baking in the oven. Flour tortillas are layered with lettuce, baked tilapia, pico de gallo, pickled onions, and garlic cilantro sauce. Get ready for a flavor explosion. Enjoy!

3. Pumpkin Snickerdoodles :: Cooking Classy :: Share it on Facebook HERE.
Pumpkin cookies and snickerdoodles marry in this sure to become a cookie classic—pumpkin snickerdoodles. The union is a match made in cookie heaven. Enjoy the cinnamon sugary taste of snickerdoodles with the yumminess of pumpkin in pumpkin cookies.

4. Cream Cheese and Chicken Taquitos :: Lil Luna :: Share it on Facebook HERE.
These cream cheese and chicken taquitos are so good, you'll want to make extra of the cream cheese and chicken mixture to freeze for future busy dinner nights. The mix is easy-to-prepare and requires just cooked shredded chicken, cream cheese, sour cream, salsa, cheese, and baby spinach. You'll need plenty of oil for frying your tortillas too.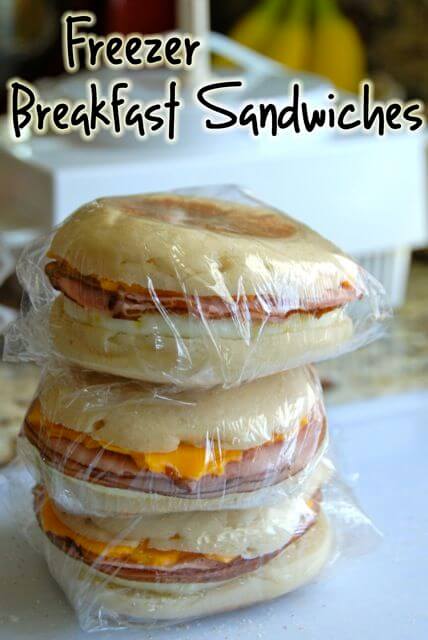 5. Make Ahead Freezer Breakfast Sandwiches :: Smart School House :: Share it on Facebook HERE.
Treat yourself to a homemade and healthier version of the McMuffin every morning by making ahead these freezer breakfast sandwiches. Preparation is simple. Start by cracking eggs into ramekins and seasoning with salt and pepper. After baking, remove the eggs and layer them with ham and cheese onto English muffins. Wrap in plastic wrap and freeze until use. Quick and easy!

6. Pumpkin Lasagna :: OMG Chocolate Desserts :: Share it on Facebook HERE.
A fall update to the popular chocolate lasagna, this pumpkin lasagna features similar dessert layers of decadence with a pumpkin twist. This dessert "lasagna" starts with a buttery crumb crust made from walnuts, flour and butter. That gives way to a yummy cream cheese and whipped cream mixture, followed by the real star of the show—a layer of pumpkin puree mixed with vanilla pudding. Top it all off with more whipped cream and some chopped toasted walnuts and you're ready to sink your teeth into a delicious fall-inspired treat!
7. Cake Mix Apple Cobbler :: Amanda's Cookin' :: Share it on Facebook HERE.
A great "set it and forget it" dessert, this cake mix apple cobbler is made in the crockpot. This easy dessert features a cake mix as its base, making it simple and convenient. You'll love serving up this delicious treat at a holiday celebration, family gathering, or just as a yummy dessert whenever you have a craving.
8. Slow Cooker Caramel Apple Pie Dip :: The Magical Slow Cooker :: Share it on Facebook HERE.
Imagine all the yummy flavors of apple pie, but in an easy dip! This slow cooker caramel apple pie dip will become a fall favorite. It's easy to prepare in 20 minutes, and requires about 90 minutes of cook time in your slow cooker. It's basically a dump recipe for the dip: 5 cups peeled and diced apples, 1 jar of caramel sauce, cinnamon, salt, and nutmeg. Then comes the crust dippers—little bits of pie crust—baked to perfection—that provide the perfect scoop for the dip! You'll use refrigerated pie dough, making this a simple step!
9. Slow Cooker Pasta E Fagioli Soup :: The Recipe Critic :: Share it on Facebook HERE.
You're going to love this recipe for slow cooker pasta e fagioli soup! Rich, hearty, and full of veggies, and meat, it's the perfect soup for fall! Plus, since it is cooked in the slow cooker, it is super easy requiring little prep time! Add a side salad and some crusty bread. Dinner is served!
10. Cloud Bread :: Spend with Pennies :: Share it on Facebook HERE.
Looking for a bread substitute? Cloud bread is your friend! Easy to make, fluffy and light, this bread is low carb and low calorie. You can have your sandwich and eat your "bread" too. It's even Weight Watcher and 21 Day Fix approved! The recipe is simple as it is made from eggs, cream of tartar (for stiffening), cream cheese or Greek yogurt.
Get set for the school year with these great sources gathered by the crew at Spaceships and Laser Beams to help create a delicious summer treat.
(Amazon Affiliate Links)
Check out more great recipe ideas you'll love.