Spring is here and that means it's time for picnics, reunions, and even potluck dinners. If you're looking for a great dish to take to your next get together, check out our recent 10 most popular posts from Facebook. It's full of great recipe ideas like Fruit Salsa with Cinnamon Chips, BLT Pasta Salad, Texas Toast Pizza, No-Bake Cherry Cheesecake Lasagna, and even an Old Fashioned Banana Cram Pie.  Getting hungry?!
---
See also
---
Here are our facebook followers favorite posts from this week: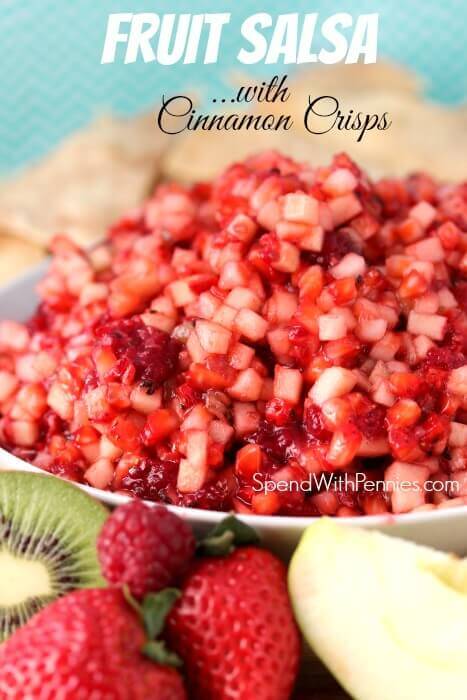 1. Fruit Salsa with Cinnamon Chips :: Spend with Pennies :: Share it on Facebook HERE.
Fruit just got an irresistible makeover! This fruit salsa is a dessert dip that may make it easier for you to incorporate more fruit into your diet. It's a delicious mix of fruit and berries, and paired with our easy-to-make cinnamon chips, is destined to be the first thing gone at all future parties. We aren't kidding. It is a perfect summer snack or appetizer, but also make a yummy treat to serve up at any special occasion.
2. Texas Toast Pizza :: Crafty Morning :: Share it on Facebook HERE.
You're seriously only 4 ingredients and about 5 minutes away from an easy fix-it meal that even your pickiest kids will love. You'll need some Texas toast (or substitute homemade garlic bread), pizza sauce, mozzarella cheese, and pepperoni (+ any additional toppings of your choosing). The assembly is so easy that kids can help create their own mini pizzas!
3. Crescent Cheese Danish :: Incredible Recipes from Heaven :: Share it on Facebook HERE.
Are you a fan of recipes that are as delicious as they are easy? If you answered yes, this recipe for a crescent cheese Danish is for you! The key for simplicity is using store bought crescent roll dough! The filling is a tasty mixture of cream cheese, lemon juice, vanilla extract, and sugar.
4. No Bake Cherry Cheesecake Lasagna :: Hugs and Cookies XOXO :: Share it on Facebook HERE.
If you love no bake dessert recipes, cherries, cheesecake and cookies, boy do we have the perfect recipe for you! This no bake cherry cheesecake lasagna is a perfect dessert for any day of the week and all year long. The ingredients list is small—Nilla Wafers, cream cheese, sugar, whipped cream, cherry preserves and cherry pie filling. The instructions are easy! What are you waiting for?
5. BLT Macaroni Salad :: The Best Blog Recipes :: Share it on Facebook HERE.
Shake things up this summer with a delicious twist to your traditional summer macaroni salad. This BLT macaroni salad is a hit at BBQs and potlucks, parties and more. Take our word for it, and make a double batch if you want to sample any yourself. Every bite brings a little something special—bacon, tomatoes, lettuce, and a little fresh basil add something extra tasty to this popular salad.
6. Star Wars Painted Easter Eggs :: Frugal Fun 4 Boys :: Share it on Facebook HERE.
The creativity and talent behind these wooden Star Wars painted Easter eggs is out of this world. Not only is this a creative use for wooden eggs, it's a fun artistic project that results in great display pieces for that Star Wars fan in your life. Even kids will love admiring the effort! Yoda, Darth Vader, Princess Leia, Luke Skywalker, C3PO, R2-D2, Han Solo, Chewbacca, and a Storm Trooper are all represented.
7. Mini Mouse Cozy Coupe Makeover :: Princess Pinky Girl :: Share it on Facebook HERE.
Little Minnie Mouse lovers are going to go nuts over this mini Mouse cozy coupe makeover. Two coats of spray paint (black and red), some vinyl embellishments, wooden ears and bow, and some circle labels later, and you've got one adorable Minnie car! Finish everything off with sealant for long lasting riding fun!
8. Old Fashioned Banana Creme Pie :: OMG Chocolate Desserts :: Share it on Facebook HERE.
Pie! I am pretty sure it is the dessert choice in heaven. This old fashioned banana crème pie is a from-scratch recipe—the kind your grandma probably made. It's got the flaky crust, is piled high with bananas, creamy vanilla pudding, and topped with fresh whipping cream. To finish it off, it's sprinkled with chocolate shavings and more bananas on top. Delicious!
9. Veggie Cooking Cheat Sheet :: Princess Pinky Girl :: Share it on Facebook HERE.
Never over-cook or under-cook your vegetables again! Download and print out this free veggie cooking cheat sheet and know exactly how long to cook your veggies no matter which cooking method you choose (boiled, steamed, or microwaved). You can choose from so many popular vegetables like asparagus, cauliflower, mushrooms, peas, potatoes, carrots, corn, and eggplant.
10. Celebration Marble Cupcakes  :: Two Sisters Crafting :: Share it on Facebook HERE.
Whether you're celebrating a birthday, Mother's Day, Easter, or "just because", these celebration marble cupcakes are the perfect treat. They utilize a white cake mix and food coloring which means a simple recipe from start to finish. Coloring the batter is the most time consuming part, but is also the fun part and what helps to achieve the marble look.
Cooking will be a piece of cake with help from these great Amazon affiliate links gathered by the team at Spaceships and Laser Beams.
(Amazon Affiliate Links)
Check out more great recipe ideas you'll love.