We're between holidays now, so your entire focus can be on celebrating your boy joy. This week I've noticed both innovative and classic boy birthday party ideas: Nerf guns; Sesame Street; Peter Rabbit; Angry Birds; rock a bye baby; safari; tractors; planes; and a vintage garage. Be inspired as you poke around in some pretty cool ideas!
---
See Also
---
MY FAVORITE BOY BIRTHDAY AND CELEBRATION IDEAS FROM AROUND THE NEIGHBORHOOD THIS WEEK:
1. From Michelle Paige via Design Dazzle: Nerf Gun Party – 10-year-old boys and Nerf guns are an awesome combo. The Nerf yellow-orange-black party had several big fun activities to capitalize on the energy this age group is famous for.
2. From Everything But the I Do via Mimi's Dollhouse: Sesame Street 1st Birthday — Elmo, Cookie Monster, Big Bird and Oscar the Grouch populate the colorful party décor. I was especially fascinated with the cute backdrop mom spray-painted on a sheet!
3. From Lynden Lane Company via Pretty My Party: Peter Rabbit Inspired Baby Shower — A beautifully restive outdoor venue is the setting for this sweet theme. A lovely arrangement of plants in interesting containers is especially pleasing; whole carrots and fresh flowers at each place setting are fun!
4. From Skybox Event Productions via The Party Wagon: All Things Boy 1st Birthday – This first birthday celebration has a freshness that is very appealing with a modern take on classic paper airplanes and boats.
5. From Stephanie Nestor via Kara's Party Place: Vintage Garage 1st Birthday — In addition to a totally unique first birthday theme, this woman created amazing party decorations; take the time to check it out!
6. From J at Your Service via A to Zebra Celebrations: Rock a Bye Baby Shower — Black, white and aqua are used to create a welcome for a baby rock star.
MY FAVORITE BOY BIRTHDAY PARTIES FROM OUR BLOG THIS WEEK
7. From Olivia's Kitchen via Spaceships and Laser Beams: Angry Birds 5th Birthday Party — Colorful and fun decorations and a terrific birthday cake make this a special celebration for an Angry Birds fan.
8. From Maddylicious Cakes via Spaceships and Laser Beams: Boy's 7th Birthday Safari Themed Adventure — Jungle animals and animal prints create a handsome party for a guy who likes animals, but not the baby kind!
9. From Where the Green Grass Grows via Spaceships and Laser Beams: Tractor Themed 3rd Birthday — Tractors, dirt and good country fresh air are all a little guy needs for a fun birthday!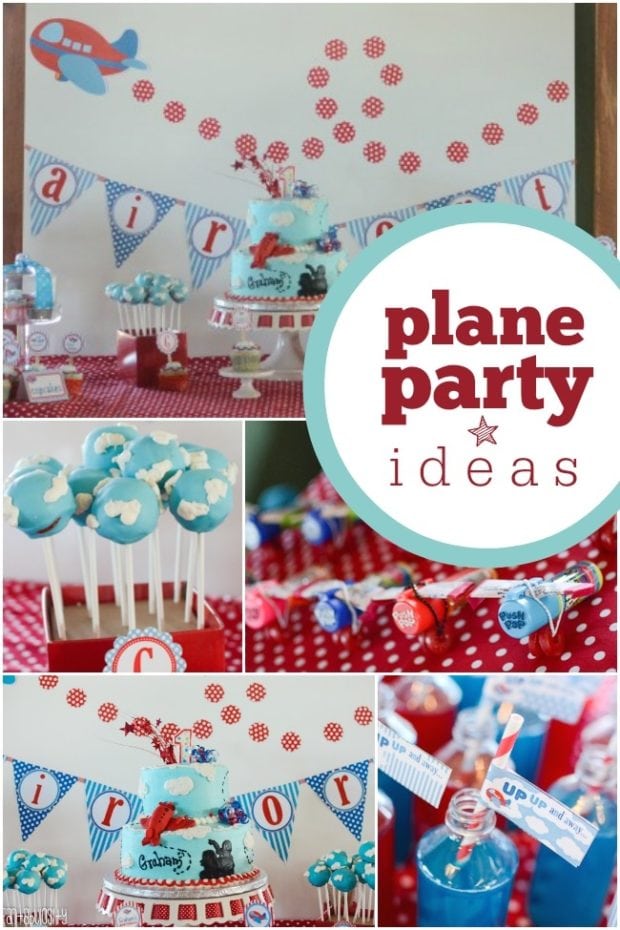 10. From Jessica of Fantabulosity via Spaceships and Laser Beams: Airplane Themed Birthday — Sultana suitcases and a rocky road runway lead the way to a sweet first birthday celebration.
MY FAVORITE PINS THIS WEEK :: Sometimes the simplest ideas are the most engaging. Who doesn't like easy?!
Cardboard Box Fun :: You know how kids always like to play with the packaging? Here's a great idea—free and fun.
Bath Time Fun :: Small toys + frozen in ice = bath time fun.
Flashlight Fun :: What boy doesn't like playing with a flashlight? Take it a step further by making it into a star constellation projection so he can "stargaze" indoors.