Party Food
Unique BBQ Recipes: Buffalo Franks
By
| Last Updated:
Sponsored post written by me on behalf of Tyson Foods, Inc. The opinions and text are all mine.
Sam is so excited about summer fun with his new friends in our new neighborhood! He has all sorts of schemes for ball games, forts, and playing at the beach. Of course his plans always include me making food for the gang. I'm happy to be his accomplice as long as the kid-friendly menu plans are not too elaborate. Hey—it's summer vacation for moms, too!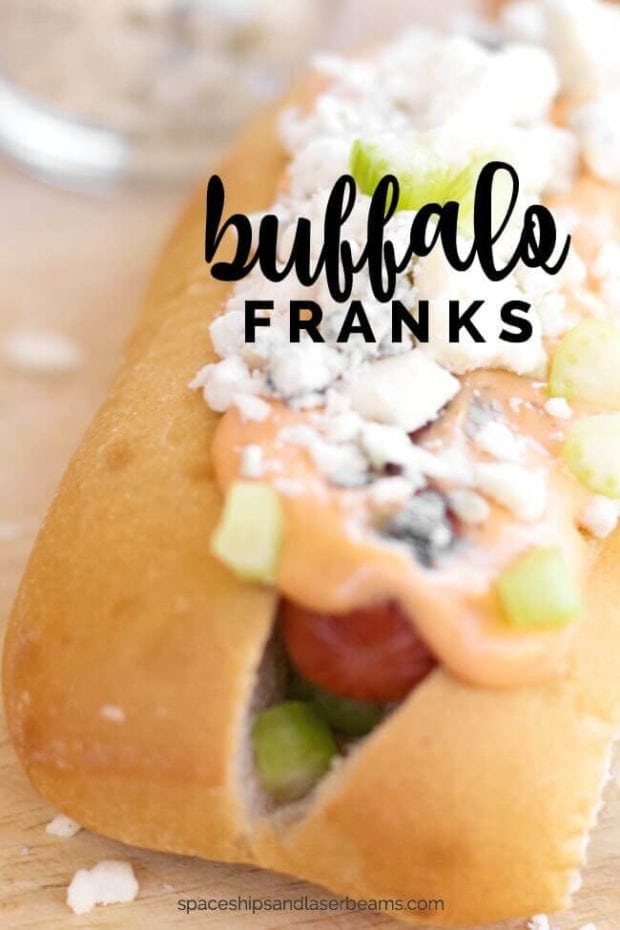 Sometimes the simplest meals are the best. I've noticed at birthday parties that just about every kid loves hot dogs. And no matter if you're at home, the beach, the park or the ball field, summer means grilled hot dogs.
I had an awesome "ah-ha" moment while I was shopping at Walmart for hot dogs and buns.
Regular buns are yummy and I especially appreciate that Ball Park® Bun Size Beef Hot Dogs are perfectly sized for hot dog buns—no more of that silly too-much-bun for too-little-dog stuff.
But I knew I wanted to pile on toppings and from experience I knew I would lose way too many of them. Grr.
Enter my "ah-ha". Buy unsliced buns and slice them in half from top to bottom instead of side to side.
How to feel like a legend in your own mind! Why had I never thought of this before?
Ball Park® Bun Size Beef Hot Dogs are made with premium quality, 100% Angus beef so they're full of big, bold taste that guys (and gals) big and little approve. Find Legendary Recipes for All Star Grilling at www.legendsatthegrill.com/walmart.
Go beyond adding mustard and ketchup for extra flavor. We like Buffalo Franks.
Become a legend in your own mind: check out the
Ball Park® Sports Legends page
. Get recipes and tips from the Legends themselves. #GrillLegendary!
Buffalo Franks
2016-06-19 23:16:59
Ingredients
1/3 cup mayonnaise
1 ½ T Buffalo sauce
½ t lemon juice
1/8 t pepper
finely diced celery
blue cheese crumbles
Ball Park® Bun Sized Franks
bakery hot dog buns
Instructions
Turn your grill on high. Once the temperature reaches 500 degrees, scrape down the grill and reduce heat to medium.
Place franks on the grill and cook for 2-3 minutes. Rotate the dogs and cook for another 2-3 minutes.
In a small bowl, mix mayonnaise, lemon juice, Buffalo sauce and pepper.
Slice each bun, being careful not to cut all the way through buns. For this recipe, I sliced top to bottom, instead of the usual side-to-side way. It made sure the hot dog and toppings wouldn't roll out!
Place diced celery in the bottom of the bun, then top with frank, spread on the buffalo sauce and sprinkle with blue cheese.
Spaceships and Laser Beams http://spaceshipsandlaserbeams.com/
Never Miss Out on the Best Recipes & Crafts
Subscribe and get them delivered right to your email each week