Boyish Charm
Radio Flyer Movie Night Idea
By
| Last Updated:
Have you ever taken a ride in a little red Radio Flyer wagon? I have. My long-term love affair with the Little Red Wagon makes me even more interested in seeing the award-winning short film, Taking Flight. The film is inspired by the life and heritage of Antonio Pasin, inventor of the beloved wagon.
In the fictional tribute, we meet a bored little boy who is not too happy about spending the day with his Grandpa. Until—Adventure! Excitement! Imagination! and the Little Red Wagon transform their time together into a larger-than-life journey.
My first Little Red Wagon ride was also with my grandparents, who gifted me the magic chariot. Although I was too young to remember that very first ride, I've seen the pictures and heard the stories.
My mom taught a drama class once a week and my grandma, my Nannie, would babysit me. Mom said she could have made money on the arrangement because she was certain Nannie would have been willing to pay for the privilege of babysitting her only granddaughter!
Anyway, I was not a sound nighttime sleeper and the naps of my babyhood were few and far between. Five minute snatches and I was refreshed and ready for the next adventure whether my bleary-eyed parents were or not.
Enter the Town and Country model of the Little Red Wagon. My babysitting Nannie lined it with pillows and blankets, put me in my pink jacket and sunglasses and we were off for a neighborhood jaunt.
I was totally content. My tired parents learned they could take their fussy princess for a wagon ride and I would happily quiet down, eventually learning to give the queen's wave to passersby.
My younger brother also used that wagon and now my boys have it. The boys' adventures have been more…aggressive than mine, but we've all totally enjoyed that childhood conveyance.
In addition to my beloved wagon, Radio Flyer has more than 100 award-winning products. They are the world's leading producer of wagons, tricycles, scooters and other ride-ons. The family-owned company has been making memories with kids since 1917.
Radio Flyer's Chief Wagon Officer, Robert Pasin, and award-winning director Brandon Oldenburg, CCO and partner of Moonbot Studios, are hosting an exclusive Facebook viewing party of Taking Flight. There will be a Q&A session in Radio Flyer's hometown Chicago.
Audiences nationwide are invited to tune in to the Facebook Live Event to see the family fun film, which begins at 10:00 a.m. CT on September 10th.
How about you? Have a personal story about fun times in your Radio Flyer? Share your past or present tale for a chance to win the Radio Flyer's Little Red Stories contest. A winner will be chosen once a week throughout September and October and the winner will be featured on the Radio Flyer website and receive a prize.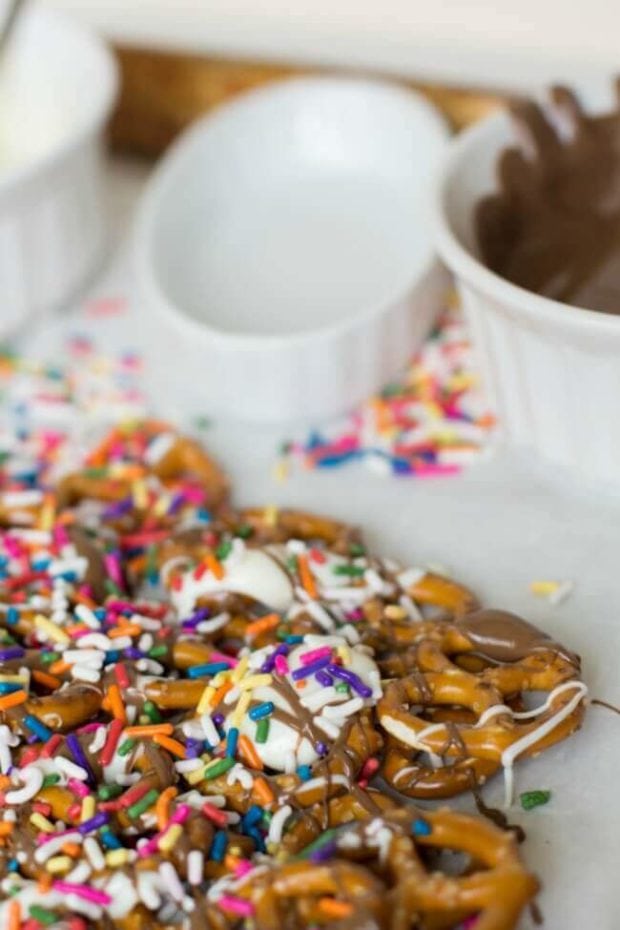 Now, everyone knows movie viewing and eating treats go together. Take a bag or two of these yummy candy-covered pretzels along for the ride—it's that perfect salty-sweet combo!
EASY CANDY-COVERED PRETZELS
2016-09-08 19:58:07
Ingredients
There are not specific measurements for this one, it's really to your preference. What could be easier?!
pretzels
white chocolate almond bark
milk chocolate almond bark
sprinkles
Instructions
Spread pretzels out on a baking sheet lined with parchment paper.
Melt white and milk chocolate almond bark in separate ramekins in the microwave and drizzle over the pretzels.
Top with sprinkles. Lots of sprinkles.
Spaceships and Laser Beams http://spaceshipsandlaserbeams.com/
Never Miss Out on the Best Recipes & Crafts
Subscribe and get them delivered right to your email each week